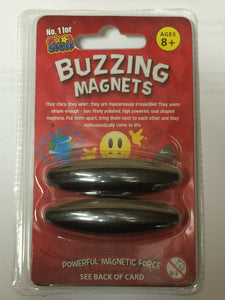 TNW
Buzzing Magnets Medium Pair 60mm x 17mm
Regular price
$8.99
$0.00
Unit price
per
Tax included.
Shipping
calculated at checkout.
ONE BRAND NEW BUZZING MAGNETS MEDIUM PAIR.

BZZZZ..... BZZZ.....OH MY GOD! THERES A BEE IN THE ROOM!!
No, your wrong that's the sound of buzzing magnets!!!
Throw these magnets into the air and listen as they BUZZ!

Magnet sizes comply with Australian minimum sizes for this item.
This product is exclusive to TNW Australia

Instructions:

1. Hold the Buzzing Magnets in the palm of your hands, slightly separated so they don't touch.
2. Gently throw slightly up in the air, watch as they come together and hear them rattle and buzz in the air.

These unique oval shaped magnets will have you entertained for hours on end as you accomplish an impeccable technique to show off to your friends.

Product Description:

Two strong shiny oval shaped magnets.

Recommended Ages: 8 years +

WARNING:
These are extremely strong magnets. Keep away from objects sensitive to magnets such as, but not limited to TV sets, and video screens, computers, pacemakers, credit cards etc. These magnets are heavy, please use with care and follow the age recommendation.
---